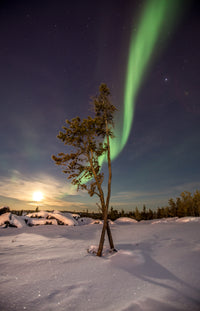 One of the reasons I feel so fortunate has to do with my place; the beautiful landscape of northern Canada. A place where I can view the majestic northern lights from my bedroom window and drive only a few short miles to feel a million miles away. This image was captured during one of my many adventures to capture the northern lights. Here, the moon seemingly blows a whisper of northern lights as the trees are forever entwined in an embrace.
Leave a comment (all fields required)
Comments will be approved before showing up.